VALLEY HIGH SCHOOL INDUCTS 8 NEW NATIONAL HONOR SOCIETY MEMBERS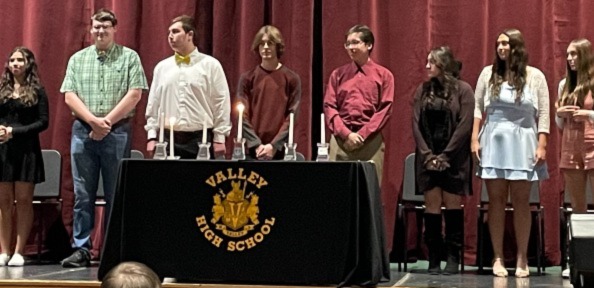 Congratulations to the following students on their induction to the Valley High School Chapter of the National Honor Society on Nov 15, 2022!
Christopher Cochran
Miranda Gomez
Seth Grill
Nevaeh Jimenez
Gianna Rivera
Peyton Savolt
Michael Stone
Alberto Valles
FFA District Competition Results
Congratulations to the FFA District Competition participants
Avery Loveland WINS!! Prepared Public Speaking with a nearly perfect score!!!!- she will represent the Valley FFA Chapter at the State Competition
Creed Speaking:
Caleb Dudley scores Bronze
Evelin Benavidez scores Silver
Prepared Public Speaking:
Larissa Johnson scores Silver
Extemporaneous Speaking:
Zac Schmunk scores Bronze
Angie Pike scores Silver
2022 Homecoming Queen Hannah Archambo & King Blake Herrman
CONGRATULATIONS Patriot League Honor Choir Delegates
Congratulations to the following Valley Vikings for the nomination to the Patriot League Honor Choir.
This group performed with students from other students in the Patriot League on Monday, Nov 14 at the Union Colony Civic Center
Brady Sasse
Laverne (Kyle) Carmichael
Blake Herrman
Alyssa Liszcz
Tori McBride
Karina Berlier
Finn Trent
Asia Matthews
Susy Castillo
Abbi Espinosa
Alycia Aguirre
Makayla Felice
SAT/ PSAT/ CMAS TESTING COMING IN APRIL!!
Sorry, but there was nothing found. Please try different filters.